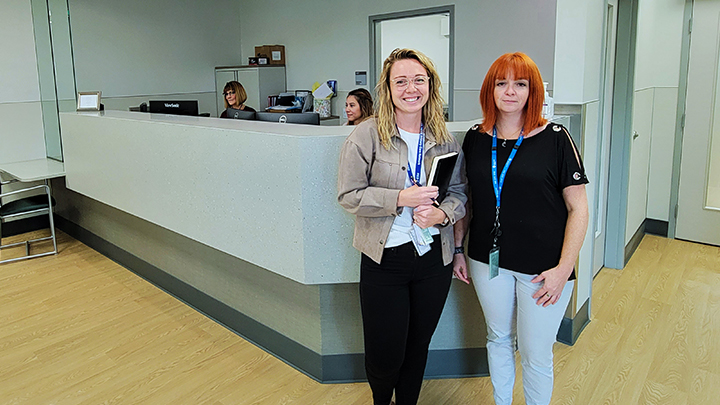 Katrina McNaughton, left, Nurse Practitioner with Red Deer Primary Care Network's Street Clinic, and Amanda Chamberlain, Registered Psychiatric Nurse and clinical coordinator with Street Connect, are members of the multidisciplinary healthcare team who support the city's vulnerable populations at Street Connect's new facility. Photo by Tracy Kennedy.
New Red Deer location improves access to multiple services
Story by Jonathan Koch | Photo by Tracy Kennedy
RED DEER — People experiencing homelessness are the least likely to seek help. They can also be the hardest to reach. People dealing with severe addiction and mental health concerns are often reluctant to access care which can lead to hospitalization. This is where Street Connect comes in.
"We try to decrease barriers by meeting clients where they're at, so we go right down to the shelters, the encampments on the street level, and we help with the severe end of addiction and mental health," says Michelle Schafers, manager of Street Connect.
"We meet our clients where they are to identify their needs, whatever those may be, and connect them with the appropriate services to support their well-being."
Developed in collaboration with community partners, the team provides health and social supports where people experiencing homelessness rest, eat and gather — making it easier for them to access treatment and recovery options.
"Our goal is to help clients access the services they need, when and where they need them," adds Schafers.
In June, Alberta Health Services (AHS) relocated the Street Connect team to the South Gaetz Medical Centre, adjacent to Red Deer Regional Hospital (RDRHC). The team now shares space with the Red Deer Primary Care Network (PCN) Street Clinic, and an AHS public health dental clinic — both of which support vulnerable populations.
"Moving here permits many of the services that this population requires to be accessed in one location," says Cindy Staniforth, director of adult community addiction and mental health for Red Deer.
"This provides enhanced access for clients, as well as an increased opportunity for organizations to collaborate in providing care to vulnerable populations."
Since its launch in 2021, Street Connect has supported about 225 individuals experiencing or at risk of homelessness and have helped many more make connections to appropriate services. Following their recent relocation, the team anticipates that number will grow and along with it, an improved ability to seamlessly connect those clients with outreach organizations now under the same roof.
Complementing the work of the Street Connect team, the Red Deer PCN Street Clinic provides primary care, Hepatitis C treatment and Opioid Agonist Therapy. Their nurse practitioners, like Keith Clarke, also connect their clients with family physicians, if needed.
Having this collaboration and close proximity of the programs has led to seamless sharing of information between PCN and AHS outreach teams.
"Having Street Connect right here, if they have questions on an individual, we can just chat right away with them, versus previously, when they'd always wait until they came into the clinic with the patient," says Clarke. "It speeds up the process of care a little bit more for the individuals."
The new co-location also allows providers to see each other's clients for different needs when they walk in, Schafers adds.
"We'd take clients into the PCN where they were located before, whereas now Street Connect staff can walk down the hallway and talk about a client with the PCN staff," she says. "So, clients might need the PCN street clinic, but then they realized that they could also use the addiction and mental health services, or vice versa."
With extended operating hours — 8 a.m. to 8 p.m., seven days a week —Street Connect also makes it easier for the city's most vulnerable to access the supports they need, when they need them.
"With individuals experiencing homelessness, sometimes it's difficult to locate them, but this actually gives them a place where they can come if they need supports or need services," says Schafers.
"There's an open door and an open waiting room where they can just come and walk in."