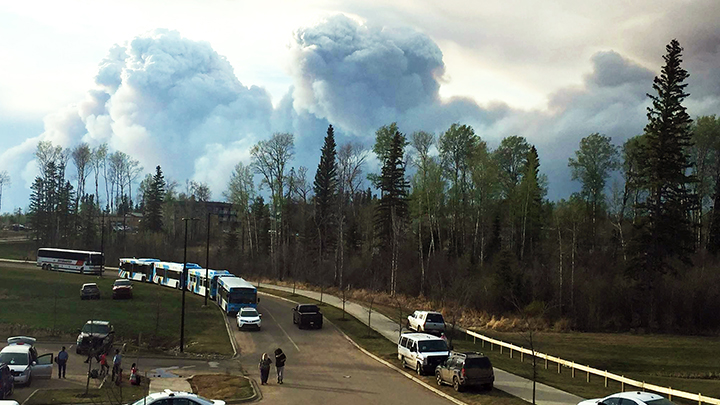 Alberta Health Service gained valuable experience in the evacuation of patients during the 2016 wildfires in the Fort McMurray region. This photo was taken near Anzac, a hamlet southeast of the city. Photo supplied.
Ease of transferring vital patient information keeps focus on care
Story by Suzy Thompson
As wildfires flared across north and central Alberta in May, Alberta Health Services (AHS) staff worked quickly to suspend services and evacuate hundreds of patients and continuing care residents from healthcare facilities in Drayton Valley, East Prairie, Edson, Evansburg, Fox Creek, High Prairie, Pembina Village, Rainbow Lake, Swan Hills and Valleyview.
This high-stress situation was eased by features in Connect Care that allowed remote clinical operations support staff to quickly pull patient information and send it to sites receiving evacuated patients.
"It was amazing what we were able to do," says Joy Fu, executive director of Clinical Operations Informatics. While she's worked on Connect Care's implementation for years, she says this was the first time its ability to help in a widescale emergency was put to the test.
Evacuation managers needed as much information about patients as they could get, as soon as possible, to know how transit and clinical resources should be allocated.
"They were saying, 'these are the things that we need for patients: we need their name, the demographics, specific information on their oxygen level, can they actually ambulate, are they mobile, are they in isolation?'" says Fu.
Previously, this is information that nurses on site had to compile manually — but this time, it was pulled directly from the system.
"This ability to pull reports meant that nurses in these sites were able to spend their time caring for patients and preparing them for evacuation, instead of manually collecting data and transcribing it," she says.
Assisting Joy was Kent Tetz, Clinical Informatics lead for Patient Movement, who adds: "All of this contributed to a smooth evacuation process — the (Emergency Coordination Centre and Zone Emergency Operations Centres) had the information they needed and the nurses at the sites were able to focus on providing care and prepping their patients."
Thanks to the work that was done in the May evacuations, the Connect Care team has also built guides to help staff through the evacuation workflow in the event of future emergencies. Stephanie Mooney, Connect Care Clinical Operations lead for Patient Flow, also proved central to organizing the evacuations from the Connect Care perspective.
She says she's happy with what Connect Care has shown it can do in an emergency.
"The thing that really amazed me with this whole evacuation response is, regardless of where any of us were physically located, the Connect Care team was able to rally quickly and respond immediately to evacuate and transfer these patients safely from one location to another."