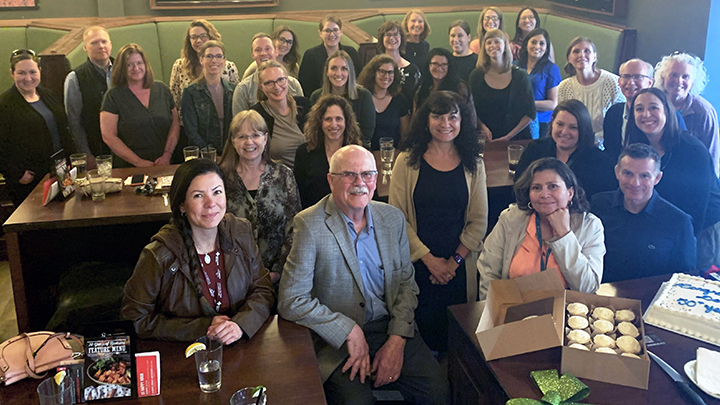 With his retirement, High River psychologist Donovan Bentz, centre, easily drew a crowd of teammates and colleagues who gathered to celebrate his 52-year-career in caring for the mental health of Albertans. Photo by Paul Ragusa.
Donavan Bentz's dedication to mental-health care gave meaning to his 52-year career
Story by Melanie Veriotes | Photo by Paul Ragusa
HIGH RIVER — After 52 years of dedicated service in healthcare, local psychologist Donavon Bentz is retiring from his role at Alberta Health Services.
Bentz says he never lost sight of the fact that every patient is unique — and often a survivor of trauma who needs care and respect — and made it his goal to always "try to help people find meaning in life."
As he approached each case, based on what the patient was specifically dealing with in their life, he recalls that the most important skill is to actively listen to the patient to assist them in navigating their situation. Building a relationship helps to reduce patient anxiety — and to develop a realistic time limited goals to lessen their problems.
Bentz will be greatly missed, says Paul Ragusa, manager, Shared Mental Healthcare.
"Donovan has built and maintained many positive relationships with physicians and colleagues, particularly in the rural communities and was someone to lean on for support," he says. "He's always done the best he can for his patients and colleagues in ensuring they receive support, either clinically or support in general."
After completing a degree in Recreation Administration from the University of Alberta, Bentz began his half-century-plus career by working at the Yellowhead Youth Centre, a treatment centre for emotionally disturbed youth.
Attracted to the larger scope of social work, he began taking master's level courses in Counselling Psychology and took on supervisory roles his agency, including a residential treatment unit. After completing his degree, he established a day program, in cooperation with a local school, to assist in the reintegration of children into their community after placement in the treatment centre.
Soon recruited to the Staff Development Branch of what was then Social Services and Community Health, Bentz helped to develop and deliver courses to staff in several youth assessment centres across the province. One facet of this role led him to develop the Child Care Worker Certification program, later administered under the Child and Youth Care Workers Association of Alberta.
His role in staff development saw him coordinate Child Protective Services Training for the province, as well as being seconded to management audit and organizational development activities, such as team building with various departmental units.
In time, Bentz joined the High River Mental Health Clinic, due to his love of direct patient service and family ties in the area. He worked as a Mental Health Therapist at the clinic for several years before being afforded the opportunity to work full-time with area family physicians.
Up until retirement, he continued to work directly with family physicians and their patients in High River, Nanton, and Okotoks, to enhance the total care of the patient. In this role, Donavon and the physician met with the patient, gathered an understanding of the factors contributing to their stress, anxiety, and depression, and achieved targeted therapeutic interventions.
As he heads into retirement, Bentz reflects: "My hope is that the next generation of mental health professionals will build on the progress we have made and continue to stand against stigma associated with mental illness."
While's there's been progress in reducing this stigma, he adds that the next challenge is to assist people with alienation brought on by world events and divisive social media, both of which continue to impact our collective mental health.
To continue to find meaning in his life, Bentz says he hopes to explore part-time employment opportunities in the private sector, spend more time with his grandchildren and travel. As a private pilot, he'll also be taking to the sky over the Alberta he loves in an amateur-built plane, in which he owns a share.