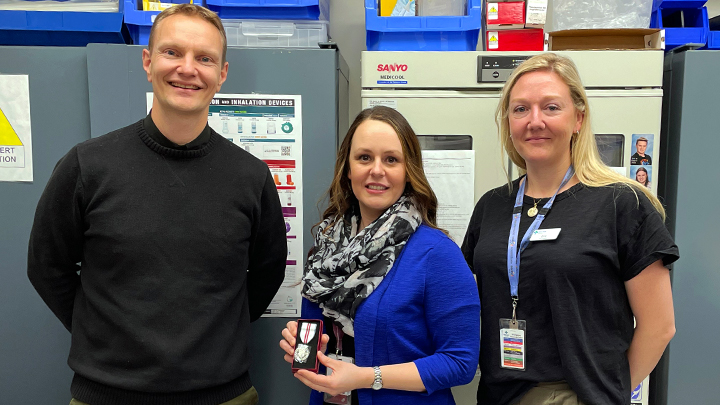 Pharmacist Dionne Hjelsing, centre, was recently presented with the QEII Platinum Jubilee Award by North Zone Pharmacy director Kevin Hofstede, left, and Northwest Rural Pharmacy manager Brie Schotz. Photo supplied.
Sixteen-year veteran Dionne Hjelsing serves sites in northwest Alberta
Story by Diana Rinne
On any given day, you'll find Alberta Health Services (AHS) pharmacist Dionne Hjelsing supporting her home site, Central Peace Health Complex in Spirit River, or regional rural hospital sites in northwestern Alberta.
"Spirit River is a smaller site, but I also support some of the other sites remotely," she says. "We do a lot of things with Connect Care and Teams now. You know it used to be fax machines and phone calls and now it's a lot more connected."
As one of seven pharmacists serving rural sites in northwest Alberta, Hjelsing's support to other sites varies from day to day, according to schedules and who's on vacation or leave. "It really depends on where we have pharmacist needs. So today I'm covering Beaverlodge, Spirit River, Grande Cache and Fox Creek. Another day, I could be covering McLennan, Valleyview and Fairview."
"We are connected pretty much everywhere in the northwest — and we're able to support one another. It's a huge area that we cover, but we keep very connected and work together very well."
A pharmacist for 16 years, Hjelsing starting in community retail pharmacy and made the move to hospital pharmacy with AHS in 2009.
"I started in Fairview," she adds. "There were no pharmacists on-site at any of our rural northwest locations, except for Peace River and High Prairie at the time. It was basically start from the ground and build up our pharmacy services, clinical pharmacy services, distribution … kind of everything."
After her second maternity leave, Hjelsing took the opportunity in 2017 to return to work out of the Central Peace Health Complex in Spirit River, which is much closer to her home in Rycroft.
She was recently honoured with the Queen Elizabeth II Platinum Jubilee Award in recognition of her role both in healthcare and in her community.
Hjelsing says the teams she works with are one of the things she loves most about her job. "We have such fantastic team, and we are so interconnected. We rely on each other so much. Not just my pharmacy team, but my physician team, my hospital team — we provide really good care for our patients. It's a great atmosphere that we've created here."
Hjelsing was always interested in a career in healthcare. She found rural healthcare particularly appealing as she grew up in northwestern Alberta.
"Having the exposure of the city when I went to university kind of gave me the fill of city life," she says, then chuckles. "I enjoy the quiet of a rural community. I grew up here and I think it just appealed to me to come back to the north."
One advantage of working in her rural community has been the return-for-service bursaries she received as a university student from the Northern Alberta Development Council (NADC) and QEII Hospital Foundation.
"That definitely appealed to me, because I knew I wanted to come back to northern Alberta," she says, noting how these bursaries help students who are open to working in rural Alberta.
Today, as a busy mom with kids involved extracurricular activities including hockey, swimming, baseball, Hjelsing enjoys camping and spending time on the family farm about 100 km from Rycroft.